How to Set Up a ZOOM Meeting
Scheduling the Meeting:
Go to https://newriver.zoom.us click "Sign In" and log in with your New River username and password.
Next click on "My Meetings" which will list all of your upcoming meetings. At the top of the page, click "Schedule a Meeting". 

You will see a page which should look something like the following: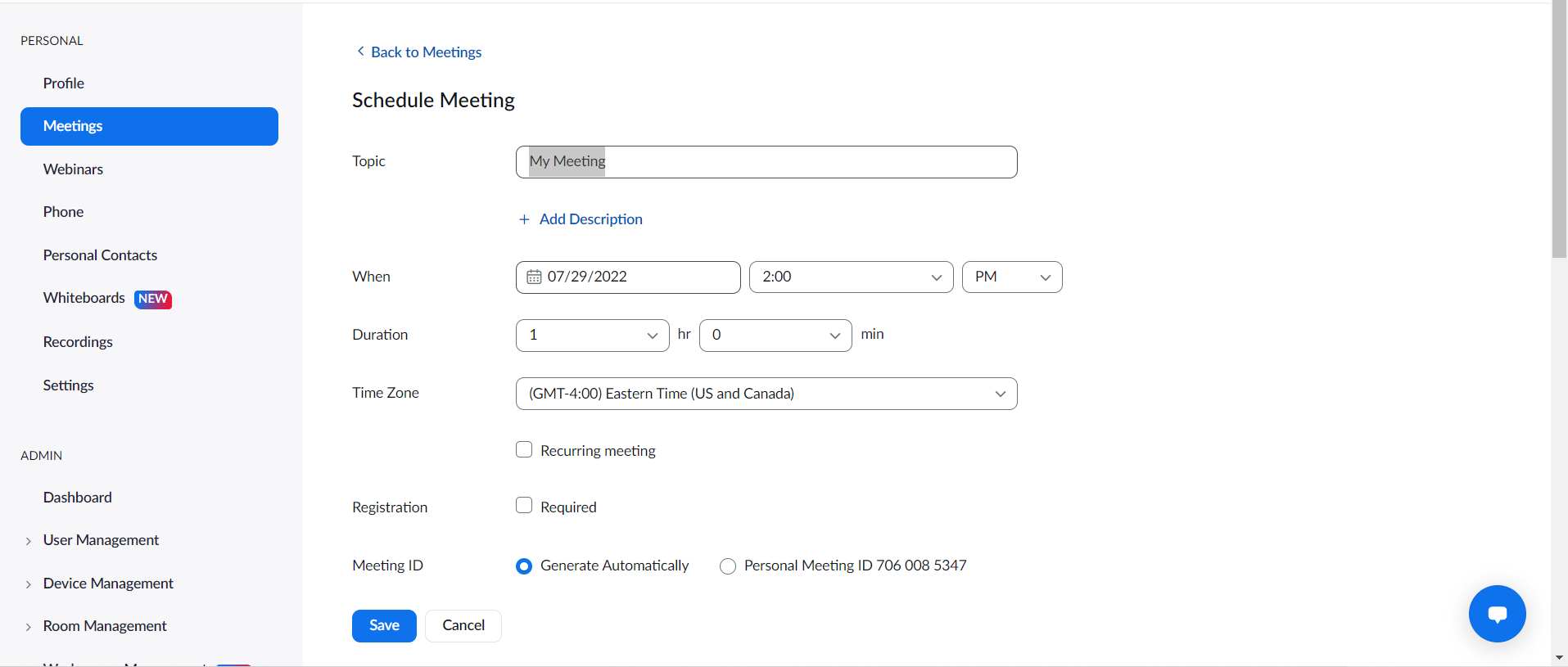 (Please note if you have not checked the "recurring meeting" box you will not see those options)
Name your meeting, select the date, time and if you need the meeting more than 1 day select recurrence and the options you need for that recurrence. 
The "Registration" option is

 NOT

 advised as this will make those you invite be required to register their username for the meeting.. this is NOT necessary for internal meetings and for external joiners it just complicates the process for them.  

IF

 you have scheduling privileges for other people you will have the "schedule for" option other wise you can ignore this. If you do have scheduling privileges for other people you will have a drop down with their names and you can schedule a meeting for yourself or for one of the people you can schedule for.
If you require more security for your meeting you can require a password
The video options set the default for when people join whether their video will be on or not. if you set the host video to be on, your video will be turned on when you join automatically, otherwise it will be off. The same for your participants.
Audio options selects the options you give those joining your meeting for their audio whether you want to allow them to join by phone or not. if you only want it to be a phone meeting then you would only select phone, if you only want them to join with their computer audio then you would select that option. We recommend selecting BOTH here, as it will give them both options and some people may have issues with one or the other.
The Meeting options gives you a few different options for your meeting, whether you let others join before you (recommended) or not, mute others on entry, which is fine for meetings that do not include one of our room systems. Enable waiting room, if you want to physically let each person into your meeting; this is good if you want to have a bit more security to your meeting or if you are needing to have 1 on 1 conversations with people who join the meeting.. you can allow a person in, talk to them, have them leave (or return them to the waiting room) and then allow the next person in, etc. You can also set the meeting to automatically record.. if you do not have a pro account you will not be able to record tot he cloud, but you will still be able to record to your local computer. NOTE: cloud recordings are subject to removal as space is needed. This will be communicated with you prior to removal of your recordings though.
When you have all of your options set up you can click "Save" and you will be taken to a page with the meeting details. Similar to the one below: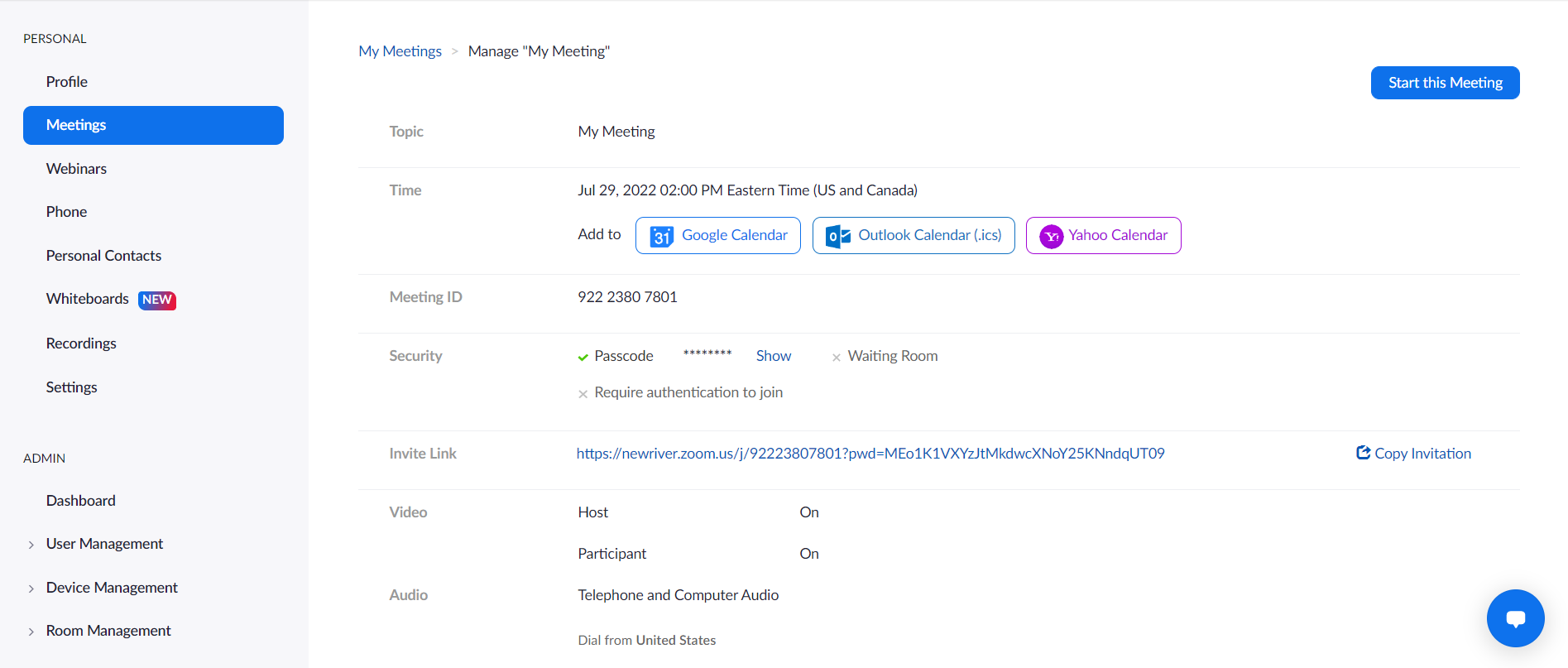 This page gives you the meeting ID#, Invite (join) link etc. You will also have the option to copy the invitation to your clipboard and then you can paste that into a meeting invite in outlook. Which could look like the following: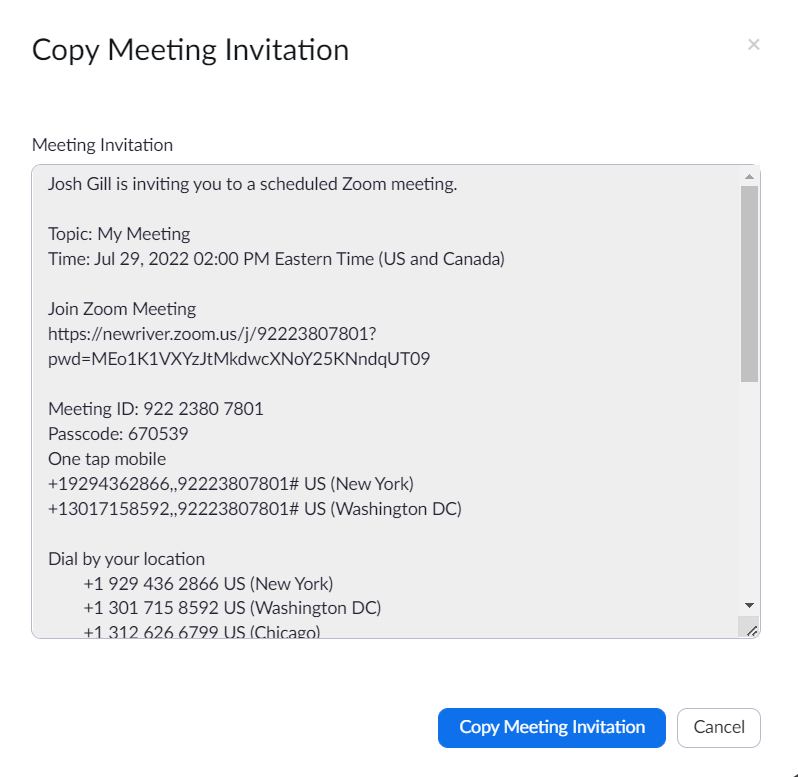 IF you do not know how to create a meeting in outlook:
To get to this point you would open outlook, select "New Items" and then "Meeting".
You would set the subject to whatever the name of your meeting is, make the location the meeting Invite (Join) link, set the date/ time for the meeting. If this is a recurring meeting you would select "Recurrence" at the top of the meeting set up window and then set the recurrence time/ days and end date. Put the meeting details in the message body (or paste the invite that you copied from your meeting page).
If you needed to invite a "ZOOM Room" to your meeting you would click on "Rooms" and select the room(s) you need to invite and click "OK" NOTE: If you receive a pop up asking if you want to change the location of the meeting, click NO. You want the Zoom room(s) to appear in the "To" field. The location needs to be ONLY the Meeting Invite (join) Link.
If you need more information you can go to THIS page for some links to useful information or visit the ZOOM Knowledge-base HERE to search for an answer to your question.